Goldy
You find yourself in a room filled with mirrors.
Everywhere you look you can see your reflection. You hear humming coming from somewhere in the room that grows louder as you move toward it. In the mirrors you can now see the reflection of a golden dragon.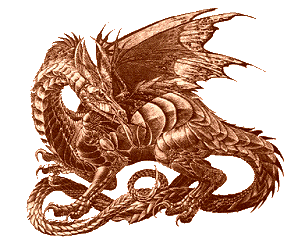 You clear your throat to get it's attention. The golden dragon spots you in the mirror she is gazing into and asks in a soft purring voice why you are where. You tell her that you are there to see the dragon's hoard. Dissapointed she replies that she thought you were there to see her and tells you that she does not know where the treasue is and askes you to stay and visit for awhile. You stay and visit for awhile and listen to her tell you stories about the castle and how she came to live there. She returns to gazing in the mirror as you say your farewells.