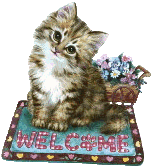 Welcome to my Cat Page


This is Pumkin and she is as sweet as pumkin pie and just as spicy. Pumkin is a very adventurous kitten and is always getting herself into trouble. On one of her adventures she wondered a little to far and got lost. She was cold and wet when the one of the cats from the Alley Catz House found her and she has lived there ever since. Her family was so thankful that she was safe and happy that they had a huge party for the Alley Catz. You can viset her at The Alley Catz House.

This my first all cat page. I have always loved cats and have three of my own. They are very sweet and keep me company when the kids are at school. They also make me feel beter when I am down. So this page is for them as a thanks for all the love that they have given me.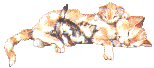 This is pumkins family. Sweet aren't they.

The yarn basket is their favorite toy.



Someone always gets into trouble.



Play time for the kittens.

Time for dinner.

Missy say's it's time for bed.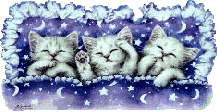 Goodnight sleepy ones.
Please come back and see me soon.
Please sign my guest book on Kats Rock'n Page.