Kat's Rock'n Page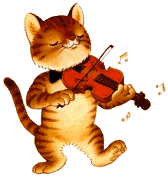 To send Cool Hellos or Laughs check out the sites below!
Here Kitty Kitty Postcards... at Beware of Cat!
ladydi's \all yours\ card sites...
Blue Mountain Arts' Electronic Greeting Cards
http://www.cgicity.com/greetings/index.html
-- IT'S A FRIENDLY VIRTUAL WORLD --







Cheshire's Crafts & Cuisine This site is great and has lots of things to see and to do with great links: Cats, music, recipes, crafts and more!

Animals - Cats - Web Clip Art Net Links
Rascal's Home Page Is a Wounderful Cat Page.
Kenda's Kathouse - A Kansas Cat's Home on the Web
Dusty's Home Page is a cool cat page.
Cat Lover's Roulette Here the "cat dispenser" will select a different great cat site for you with every click. Try it out.

Links for Kids and the Young at Heart
Book This is Kitty Roach's Kid Site and has lots of stuff for kids to do and more links to cool kids sites on the web. Come on in and check it out!
Cat Fancy On-Line: Kiddy Kats This site has lots of fun things to do for kids who like cats and animals.
My heart belongs to Cyberpope This site is so sweet a must see for kids of all ages.


You can e-mail me at ( lross@maxinet.com )



This is Pumkin and she lives at the Alley Catz House.

If you would like to add a link to this page from yours feel free to use this banner.

Or you can copy this code for your web page.
<!-----START-----Kat's Banner Link-->

<CENTER><A HREF="http://members.tripod.com/~rocknkats/index-5.html">
<IMG SRC="http://members.tripod.com/~rocknkats/LRtag.jpg"
BORDER=0 ALT="Kats Rock'n Page"></A></CENTER>

<!-----STOP-----Kat's Banner Link----->

Sign My Guestbook
View My Guestbook

Most of these pictures, grafics, and backgrounds, music, are from other sites on the internet. As far as I know they are free to the asking, however if some pictures here are yours and you don't want them on my page, just email me and I will take them off. Thanks. Sorry for any inconvience this may have caused you.